I don't know about y'all but this week pretty much flew by for me. Thank goodness. Just need to get through today and I'm home free! (till monday anyway)
Alrighty, today I'm gonna link up with some fabulous ladies and share 5 of my favorites/randoms from the week.
[one]
Yesterday I decided to dress up a little for school and like the awesome blogger that I am totally remembered to take a picture of said cute outfit (read: no I didn't). Anyway the shoes were equally cute and obviously super comfortable (read: no they weren't). In fact they were so uncomfortable that I'm 99% that I did something to my second toe (you know the one next to your big toe). It hurts like a mother and is still slightly numb. The pains we ladies go through to be cute and stylish.
Also, these were the some of the comments I got on my outfit choice from my students,
"Ms. you look"........ like a nun, like a catholic school girl, pregnant, all vintage and stuff and my personal favorite, like I belong to the Abnegation faction from the book Divergent. (my dress was solid dark grey)
[two]
I'm gonna be in one of my best friends weddings next October and I got my bridesmaids dress in. She has been super amazing and flexible about our dresses. We are each wearing a different one and I really love the dress that we chose for me. All of the dresses are from David's Bridal and are in the color marine/midnight. This is it. What do you think?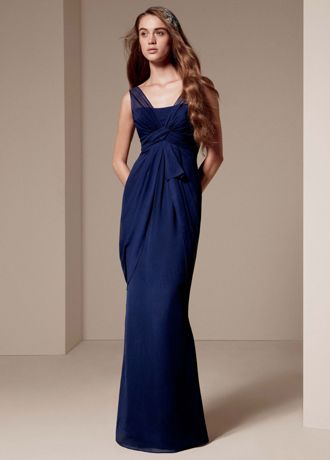 I will be looking slightly more "hippy" in my dress : )
[three]
I realized on Tuesday that there are exactly 3 weeks until Spring Break. I have absolutely no plans, except for the fact that my parents are coming here and I could not be more excited. I was going to try and go and work for Disney for the week but I'm am insanely poor since I decided to go to Europe this summer. And while I am beyond excited for my trip it is definitely taking a financial toll on me right now. Oh and decides that I'm 99% I no longer work for Disney so there's that too.
[four] My roommate Jenny, posted this to my Facebook wall at the end of January and as I was scrolling through it as I was trying to fall asleep earlier in the week I found it again and it made me laugh out loud. It also made me realize that maybe, just maybe what the problem is that Leo needs me to help him win an Oscar and I need him to be in a relationship. Sounds complete sane and reasonable....right? Right!
[five]
Ok I honestly can't think of a fifth thing. It was fairly uneventful week. So I'm just gonna say once again that I'm super excited for my girls weekend/Valentine's Day activity of brunch and 50 Shades of Grey this weekend. I also plan to make a few fun things for my best friends baby shower that we are having next weekend!! :)
Hope you all have a great weekend and a fabulous Valentine's Day! :)
Till Monday friends!
Oh and I'm also linking up with these lovely ladies as well!