Ok so I don't usually post on weekends but this link up is so fun that I just had to participate!


I hope you've all had a great weekend! Mine has been stupendous but it's back to work for me today.

Enjoy your Sunday Fundays kids, I'll be giving a Segway tour! :)



This weeks Sunday Social link up is all about one of my favorite things:

TV!!

So without further ado, I give you.......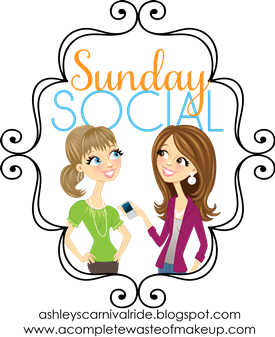 Favorite TV show of the past:
I'm not sure how far into the past we're talking here, so I'm gonna assume we mean pretty far in the past.
So I'll go with Bewitched.
My mom wants my children to call her Grandmamma just like Tabitha calls Endora in the show.
It's silly and while I tell her it will never happen, it probably will.
Favorite TV show currently:
Easy, Once Upon A Time.
I just found out that Sleeping Beauty will for sure be in Season 2.
This is why I'm ready for the month of September/October.
Which Reality Show would you NEVER do?
I would never do The Bad Girls Club.
While I love watching this show, I'm actually horribly embarrassed for these girls most of
the time.

Which Reality Show would you LOVE to do?
I am DYING to be on The Amazing Race.
And trust me, one day you WILL see my brother and me on it.
We would make the perfect team.
He'd have the physical stuff down and I would have the mental stuff down.
We'd fight (which would make for great TV) and we'd totally have each other backs (which would too).
We'd totally win.
TV personality/character that you feel is most like you?
I've never thought of this before. So I could be totally wrong, but I think that if I were to become a Doctor with my personality, then Izzy Stevens from Grey's Anatomy would be me.
I know I would get too emotionally involved with my patients. Plus she's blonde and so am I and I've heard Katherine Heigl curses a lot and so do I. (Bad habit I know!)

TV character you'd want to date?
Like there is just one person on this list.
There's like 50.
But if I had to choose someone right now it would be Neil Caffery from White Collar.
This is him.....
Goodness he is attractive.
(FYI: The actor, Matt Bomer is being considered as Christian Grey and you can drool over him in Magic Mike too!)
I'm a huge TV junkie.
So it was pretty tough to just decide on one answer for each question.
But there we are.
Have a blessed Sunday friends!
:)